My testimony is very long so I am posting it in several parts. Don't forget to read:
"But Jesus said, Suffer little children, and forbid them not, to come unto me: for such is the kingdom of Heaven!" Matthew 19:14
During my sickness all I could think about was having a child. Children are such a blessing, and somehow in my crazy mind I convinced myself that if I had a child, that would mean I was healthy. Because I still weighed less then 100 lbs the not so important parts of my body shut down. So I began to pray that we would be able to adopt. I'm going to keep most of this info general for the privacy of those involved.
My dear boy J.T. was born in October 2001. He was 10 weeks premature and couldn't remember how to eat or breath. He stopped breathing at least 10 times an hour. It really wasn't as scary as it sounds because he was on an apnea monitor and as soon as it would beep, he would jump and start breathing again. J.T. was my life! I had only had surgery 6 weeks prior to him being born, but all of a sudden nothing about me mattered! He was my world! Really things had felt so bad for so many years, this was my first real ray of sunshine!
I was so in love with this child I can't even begin to write about it. He was so fragile, and he needed me. I finally felt like I had a purpose. I rocked to him and sang to him. Prayed with him and cried with him. A biological mother could not love their child more! I knew within the first week that it didn't look like we were going to be able to adopt him, but how could I leave this precious little boy? My boy? I couldn't! So I went every day, not knowing if it was the last kiss I could give him. The last prayer I could say with him. The last time I would ever hold him and tell him how much I love him. Still I went because none of that mattered. All that mattered was he was struggling for his life and needed me.
Like most preemies J.T. struggled with his vitals. There was just too much for his poor little body to do. The nurses tried their best but for some reason I was the only person who was able to stabilize him. I held him in the kangaroo position, skin on skin, and his vitals would be perfect. Somehow my body knew how to regulate his temperature and blood pressure. His breathing became more regular and he was able to rest. I know this was a match made in heaven and God put us together! WHEW even after 10 years I cannot write this without crying! He was my boy!
We were able to raise our dear son for almost a year, and when he left he was very healthy and his doctor's were amazed at how well he had grown and developed. They had never seen anything like it. I still feel blessed that God allowed me to be part of his life! And although losing him was an enormous loss in my life, being his mother even for a short time was an even bigger gain. I honestly believe God sent him to me to save my life as well. It help me to forget what was going on with me, and to focus on someone else for a change. I have never been the same since!
REFLECTIONS:
~Have you ever prayed for something, but God's answer was no? Did you have a hard time submitting to God's will?
(I tried to keep this post as upbeat as possible, but as you can imagine, it was a great struggle for me letting my son go. You can read more about
Saying Goodbye To My Son!)
Thank you for following along with my testimony! If you are enjoying this series please share with your friends! Please continue to
Part 9 - Chemo and the "C" word
!
I linked up today with: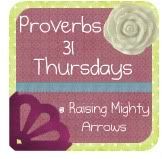 Have you been encouraged by Treasures of Faith?If so, won't you
subscribe
and receive our latest posts sent to your inbox or
RSS feed
?You may also connect with us on
Facebook
and
Twitter
, or follow us via Google Friend Connect.